End of the year
All in all, my exhibition for this year is over, but the calendar for 2019 is already being filled with new dates for 2019 . The Christmas market in Huttwil was again wonderfull and beautiful, with many beautiful encounters. Some of my Huwibears found a loving home, thank you all! who gave them a home.
Outside a stormy gusty wind is blowing , winter mood prevails, my hope is great that we will finally have a white Christmas again. This is the season when I enjoy the candlelight and the warmth of our Swedish oven while designing new bears. But I have to be careful that I do not delve too much in my creative work, since it would actually be time to bake the Christmas cookies. Otherwise my family will not be very happy. But since this pre-Christmas time, as well as the Christmas time itself , is always very touching and beautiful for me , this will probably not happen ...
I wish you dear Huwibear friends a wonderful, happy, candlelit, contemplative Christmas season.
MERRY CHRISTMAS AND A HAPPY NEW YEAR
For now I must say goodbye, because my studio is calling, at the moment I am working on my ordered bears , but before I leave, I will post some of the newcomers here , who were born in Oct and Nov. Ongoing they are now also available on the homepage. If you have questions or special requests for a bear order, please contact me via the contact form at any time and I will contact you as soon as possible.
Best regards
Corinne Locher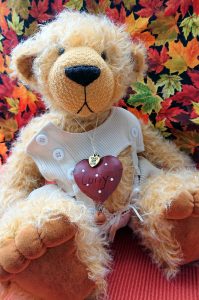 A




warm




and happy,




but also contemplative




Christmas with a few




quiet moments and quiet days,




with time for love and friendships, for




Family and everything that is dear to you.

E

njoy
commonality, indulge in Christmas scents, have time,
to be present, to savor the moment and to be completely in the right place
Being left to time without having to worry about unnecessary thoughts
Losing a morning that is not there yet.
Just be and join in
trustingly surrendering to the future without fear
but with much joy and passion for what we are doing.
Happiness and health will come by itself.
With warm wishes and
lovely greetings

(auther unknown )